CJFL Prairie Football Conference Members
A pair of national championships and an impressive list of players who went on to professional careers are obvious success stories in the history of the Calgary Colts. For long time General Manager Keith Evans and other volunteers who serve the junior football club, the biggest victory has been providing young men aged 17-22 years a chance to play at a highly competitive level.
The present-day club evolved from the North Hill Colts, who competed in the Alberta Junior Football League (AJFL) with the Calgary Mohawks, Edmonton Huskies and Edmonton Wildcats.
Always competitive, the Colts captured their first national championship in 1989. Under the direction of head coach Keith Kendall, the Colts finished fourth in the regular season and then shocked Regina and Saskatoon in the playoffs. The Colts staged another upset in the Canadian Bowl, defeating the favored Burlington Tiger Cats 23-6 at McMahon Stadium.
The following year the Colts placed second in the regular season and beat the Hilltops in overtime at McMahon Stadium in the semifinals. Calgary then beat the Rams at Regina to win the conference. The playoff trail was long in 1990 as the Colts beat the no. 1 Surrey Rams at Vancouver and the Thunder Bay Giants in a game at Winnipeg. The Colts then rolled to a 50-15 win over the host Windsor AKO to claim their second consecutive Canadian Bowl.
Darcy Kopp, Ian Franklin, John Forzani, Randy Bec, Blair Zerr, Wayne Conrad, Willie Thomas, Ken Whitney, Steve Thompson, Doug Carlson, Lyle Bauer, Mark Clarke, Cooper Harris, Darcy Kopp, Dave Chayters, Rob Prodanovic, Glen Music, Mike Hildebrand, Scott Diebert, Pat Hinds, Kevin Stroud, Tom Trifaux, Harry Kruger, Brent Walker, Ian Hewitt, Travis Arnold, Tyler Lynem, Lorrie Henderson, Matt Lambros, Johnny Forzani, Spenser Wilson and Jermaine Gabriel.

3 months ago
Know someone who has 4 hours to spare to help volunteer for the Grey Cup events?
https://t.co/qC5CKEnat0 https://t.co/M083Pdm8KX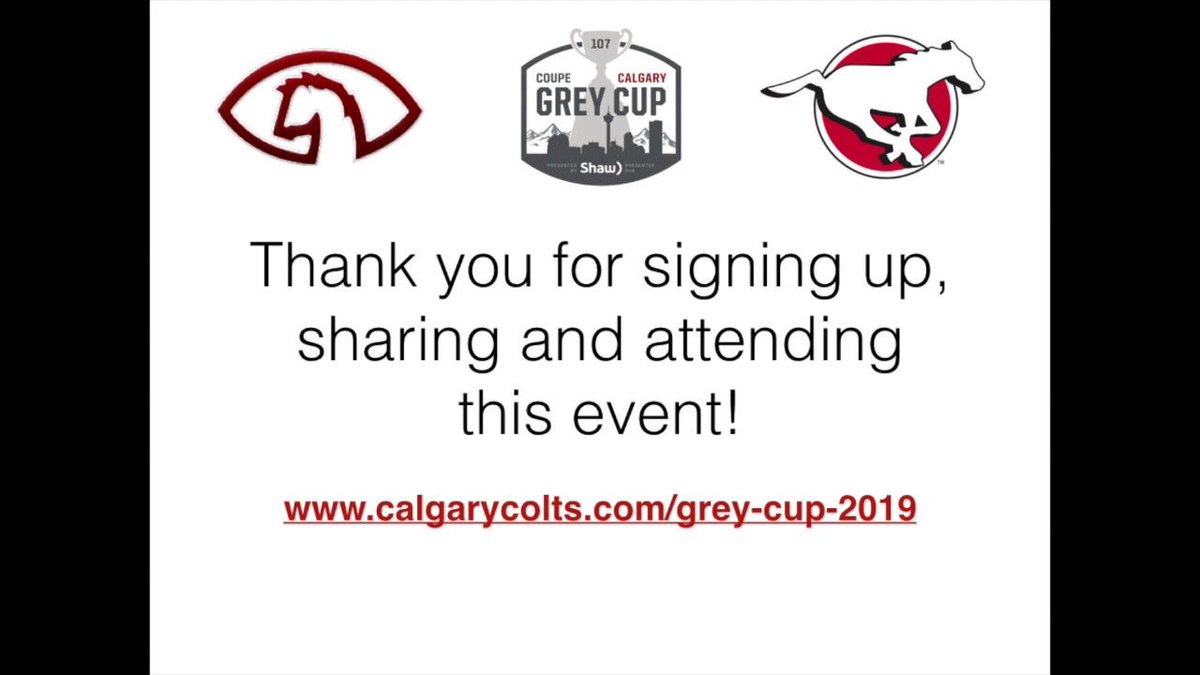 3 months ago
Volunteer with the Colts
All Calgary Colts friends, family and alumni are invited to help volunteer at special events for the 107th CFL Grey Cup festivities in Calgary! Sign up today!
#CalgaryColts #Volunteer #GreyCup107 https://t.co/CVKxjLV4Yn https://t.co/wxko5pfR8w